Prefinished 3/4 inch solid format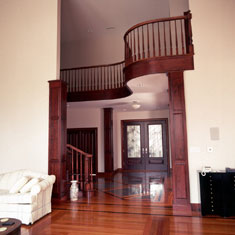 Prefinished Brazilian Cherry is our largest selling item. With the latest in milling and finishing technology, Brazilian Direct is able to offer our prefinished Brazilian Cherry with micro-beveled edges on all four sides.
Our 7-step UV finishing system offers the newest aluminum oxide finish with the last two coats being anti-scratch. This maximizes the performance of the finish and allow for easy maintenance and excellent recoatabilty. Please click here for details on our warranty.
In 2001, the prefinished segment of hardwood flooring industry grew to 70%. With the significant improvements in the coating technology and the speed of installation, prefinished hardwood has become the preferred application.
We offer prefinished Brazilian Cherry in strip 2 1/4", plank in 3/4" x 3 1/4", and 5" face. Brazilian Cherry is approximately two and a half times harder than domestic oak and it is a great choice for residential and commercial applications.
Dimensions:
3/4 x 3 1/4 x random 1 ft to 7 ft (average length is 39").
3/4 x 5 x random 1 ft to 7 ft (average length is 39").
Finish:
7 coats of aluminum oxide, with the last 2 coats applied for anti-scratch
Sheen Level:
35% sheen