Patagonian Rosewood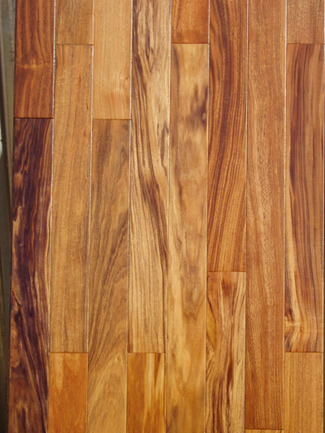 Available in prefinished format
Color Change
A new arrival to our inventory, Patagonian Rosewood (Angico Preto/Curupay) is a great addition to our product line. We're offering it at a great price. We are offering it in Prefinished 3/4 x 3 1/4 x RL 12 – 84" Nail-Down Solid and Unfinished 3/4 x 3 1/4" x RL 12 – 84" Nail-Down Solid formats.
Appearance
Patagonian Rosewood is a highly figured wood with pronounced black striping.
Color Range
Patagonian Rosewood offers an extremely wide range of color variability from light cream colors through to almost black pieces.
Patagonian Rosewood undergoes a dramatic color change from when fresh milled to when fully aged. Initially the background wood (to the black striping) varies from cream to orangish tones and then over times changes to deep dark orangey/reddish brown making the black stripes less pronounced.
Flooring Trade Name: Patagonian Rosewood
Botanical Name: Piptadenia, macrocarpa
Lumber Name: Curupay / Angico Preto
Grows In: Brazil, Paraguay & Bolivia
Request a Quote