Amendoim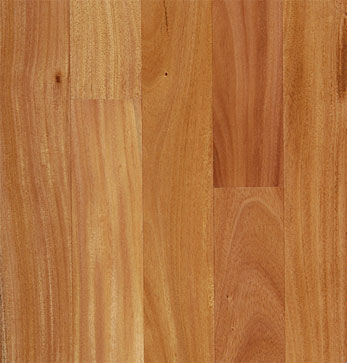 Available in prefinished format
A new arrival to our inventory, Amendoim is quickly gaining popularity among our customers. Amendoim is 106% as hard as red oak ( 1912 on the Janka scale vs. 1260 for red oak ) on the janka hardness scale. It is available in Pre-finished & unfinished ¾ x 3" & 5 " x random length 1 – 7 foot.
Appearance
Amendoim exhibits a unique warm medium reddish tan/brown color with a lot of swirling grain and small burl figures.

Color Range
Amendoim ranges from a pale tan orange-brown color to a medium tannish brown color with reddish highlights.
Color Change
Amendoim exhibits a medium degree of color change as this wood will mute and become a more uniform, darker tan-brown with reddish highlights over time.

Want to see more? Click the badge below to see an example of our Amendoim flooring being used in a recent home installation in Garden Valley, CA!
Still not satisfied? View even more photos at the photo gallery.
Flooring Trade Name: Amendoim
Botanical Name: Pterogyne, nitens
Lumber Name: Amendoim, Ybyario
Grows In: Argentina, Paraguay, Brazil

Like what you see above? Click the button below to obtain more information about our prefinished, unfinished, and engineered formats.