Brazilian Cherry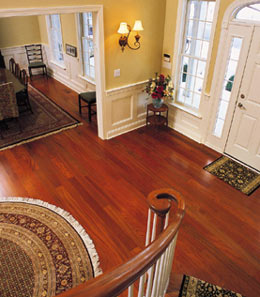 Available in prefinished and unfinished formats
Brazilian Cherry (Jatoba) hardwood flooring offers rich, red-brown tones with a beautiful grain. With its impressive hardness and timeless appeal, it's no surprise it's our customer's favorite choice. You'll find premium quality in our Prefinished Solid, Unfinished Solid, and Engineered formats.
General Characteristics
The species Brazilian Cherry (Jatoba) is the most popular hardwood flooring import from Brazil to the USA. Brazilian Cherry, known for its hardness and durability, this exotic hardwood is a great choice in both residential and commercial installations. We offer only one superior quality grade (clear grade), in both prefinished and unfinished formats and several sizes.
Brazilian Cherry from South America has a brownish-red color. It darkens from a tan/salmon color to a deep, reddish brown and is 182% as hard as domestic Red Oak. On the Janka Hardness scale, Brazilian Cherry ranks 2350 vs. 1290 for Red Oak.
Brazilian Cherry is an extremely heavy wood; hard to cut, variable heartwood regarding color, from light brown to pink, to reddish brown, with some intense shadowing. Thick sapwood, notably differentiated, white slightly yellowed, uniform medium texture, regular to irregular grain of wood, rough and of poor shine surface; imperceptible scent and taste.
Want to see more? Click the badge below to see an example of our Brazilian Cherry flooring being used in a recent home installation in Falls Church, VA!
Main Applications
Hardwood Flooring - Prefinished and Unfinished.
For being very heavy and of high mechanical properties, Brazilian Cherry wood may be used for interior finishing such as beams, rafters/joists, wooden planks, door frames, parquet and flooring boards, in external engineering such as sleepers and double tee junction, frames, decorating wooden sheets, furniture and others.
At Brazilian Direct we offer consistency. We sell only one grade of Brazilian Cherry (clear grade). Select grade is not available. This takes the guesswork out of buying Brazilian Cherry. Your Brazilian Cherry floors will always have color variation will be in an acceptable range. Our tongue and groove profile will always engage properly and the over wood will be minimal. We encourage you to compare our quality to the current Brazilian Cherry you are using. Consistency is the key to avoid those expensive callbacks. We dry our Brazilian Cherry to 7% and it is milled comparably to NOFMA standards. It is the contractor's choice.
Prefinished 3/8" thick Brazilian Cherry is useful for different applications than the standard 3/4" thick Brazilian Cherry.
Prefinished Brazilian Cherry 3/4" thick
Unfinished Brazilian Cherry 3/4" thick
Prefinished Brazilian Cherry 3/8" thick

Like what you see above? Click the button below to inquire about pricing on this product.