Santos Mahogany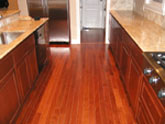 The species Santos Mahogany (Cabreuva) is our second-most popular hardwood flooring import from Brazil to the USA. A rich, dark mahogany colored wood, Santos Mahogany is a superior choice to domestic mahogany given its hardness and color fastness. We offer only one superior quality grade (clear grade), in prefinished, unfinished, and engineered formats in several sizes.
General Characteristics: Our clear grade Santos Mahogany has very minimal color and grain variation. Santos Mahogany has a medium color range, varying between a light orange/brown with yellowish overtones to a dark reddish/purplish brown. Most pieces of the floor are medium to dark orange/brown mahogany tone. Santos Mahogany is 175% as hard as red oak (2200 on the Janka scale vs. 1260 for red oak).
Main Applications: Hardwood Flooring - Prefinished and Unfinished.
Want to see more? Click the badge below to see an example of our Santos Mahogany flooring being used in a recent home installation in Doylestown, PA!
At Brazilian Direct we offer consistency. We sell only one grade of Santos Mahogany - Premium/A Grade. Select grade (lower quality) is not available. This takes the guesswork out of buying Santos Mahogany. Your floors will have beautiful grain and color variation will be minimal. Our tongue and groove profile will always engage properly and the overwood will be minimal. We encourage you to compare our quality to the current Santos Mahogany you are using. Consistency is the key to avoid expensive call backs. We dry our Santos Mahogany to 7% and it is milled comparably to NOFMA standards. It is the contractor's choice.

Like what you see above? Click the button below to obtain more information about our prefinished, unfinished, and engineered formats.