FSC Certified Flooring
Promoting responsible management of the world's forests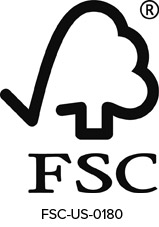 At Brazilian Direct, we are able to offer FSC Certified flooring to contractors and homeowners through our FSC Chain-of-Custody certified providers. FSC Certified flooring is the best way to ensure your hardwood has been responsibly forested. Only some of our products carry FSC Certification. To request more information on our FSC offerings, please request a quote and let us know you are interested in FSC material.
How the 3rd Party Independent Certification Process works:
The Forest Stewardship Council (FSC) - is a non-profit organization that accredits independent 3rd party certifiers whose programs conform to the FSC's internationally recognized Principles and Criteria of sustainable forestry management. The FSC enjoys the support of most major environmental groups - see below. The FSC logo provides assurance that FSC labeled wood products are backed by the highest standards of environmentally and socially responsible forestry. This ensures consumers that the wood products they buy were grown and harvested in a way that protects forests for the long term.
The Certifiers are accredited by the FSC and are the independent 3rd party organizations, which perform the actual assessments of forestlands and their management. The certifiers also audit the manufacturing/distribution channels for FSC certified content compliance. The two principal certifiers in North America are Smartwood and SCS.
Through its Chain-of-Custody (COC) Program, an accredited certification body certifies manufacturers and importers who handle wood from forests managed according to FSC standards. To become COC certified, companies must maintain adequate inventory control systems to track the purchase, separation and identification of certified from non-certified product and submit to audits. Brazilian Direct is not presently CoC Certified.
The FSC requires the tracking of certified products throughout the production process and the distribution chain to ensure the validity of the claim that the product is being sourced from FSC certified forestlands. The certifiers, through their audit process, provide consumers with the confidence that wood products carrying the FSC logo were in fact made from wood harvested from an FSC certified, well-managed forest.
A brief Overview of Sustainable Forestry Practices
Sustainable forestry balances economic and ecological needs by providing an alternative to destructive forms of forest exploitation such as uncontrolled logging and/or conversion to agriculture/livestock. The FSC criteria aims to provide a continuous yield of quality forest products while preserving the essential biological and ecological integrity of a healthy, self-perpetuating forest. Some of the basic elements of Sustainable Forestry, in brief, include:
- Ecological Balance
Forest management must strive to maintain the habitats of all native plant and animal species.

- Long Term Forestry Management & Tenure
Forestry operations must have in place long-term management plans with clear sustainable objectives supported by long term land tenure.

- Soil, Water, Critical Habitat Conservation
All operations must take into account and minimize negative soil and water / fishery / watershed impact as well as safeguard habitat sites / zones.

- Sustainable yield
The amount of timber removed from a given area must not exceed the amount that will grow in the interval between harvests.

- Social responsibility
Indigenous peoples, workers and local communities must benefit from the forest management practices.


For additional information on Environmental Organizations:
- Forest Stewardship Council (FSC) - The Forest Stewardship Council is an international non-profit organization founded in 1993 to support environmentally appropriate, socially beneficial, and economically viable management of the world's forests. The Forest Stewardship Council's principal activities are the development of forest management and related standards, communications and education, and through a separate program, the accreditation and monitoring of certification bodies working to FSC standards.
- Forest Stewardship Council (US) - The FSC branch in the United States is backed by 14 major environmental organizations (the Nature Conservancy, World Wildlife Fund, Sierra Club and others) and by major businesses.
- Certified Forest Products Council (CFPC) - Headquartered in Beaverton, Oregon, the Certified Forest Product Council is a non-profit business organization that advocates responsible forest products purchasing by North American business, industry, and institutions as a tool to promote the conservation, protection, and restoration of the world's forests. CFPC advocates the adoption of independent third-party forest certification as a means of ensuring that forest processes support sustainability, and brings businesses together with environmental interests to build collaborative purchase-power-based solutions to drive change in the management of the world's forests.
- The Ecoforestry Institute - The Ecoforestry Institutes in the US (EI) and Canada (EIS) are educational, nonprofit, NonGovernmental Organizations whose mission is:
o to provide education and training programs in ecologically responsible forest use;
o to establish demonstration forests to show that forests can be sustained and restored while forest products are harvested on a long-term sustainable and economic basis; and
o to certify forest products from forests which are being sustained and restored, as well as to provide information about international certification.
- Rainforest Alliance - Smartwood Program - SmartWood's purpose is to improve the effectiveness of sustainable forestry in conserving bio-diversity and providing equity for local communities, fair treatment to workers, and creating incentives for businesses so that they can benefit economically from responsible forestry practices. Initiated in 1989, SmartWood is the oldest and most extensive certification program in the world. SmartWood is a program of the Rainforest Alliance, an international nonprofit environmental group based in New York City.
- The Silva Forest Foundation (SFF) - The Silva Forest Foundation (SFF) has pioneered an ecosystem-based approach to forest conservation that protects biodiversity, while assisting communities and individuals to implement ecologically responsible forest use and economic development. They work collaboratively with rural communities, First Nations, forest stewards, and conservation organizations.
- Institute for Sustainable Forestry (ISF) - Smartwood Program - ISF is the Western Regional headquarters for SmartWood, offering landowner and resource manager certifications, as well as market assistance and forest product business chain-of-custody certifications. ISF has conducted rigorous land management certifications on many thousands of acres in northern California.
- SGS - SGS is one of the world's leading independent Certification Bodies accredited by the United Kingdom Accreditation Service for Certification bodies (UKAS). It offers a range of services including assessment and Forest Management Certification.