Brazilian Koa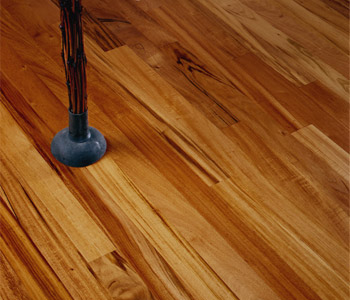 Available in prefinished and unfinished formats
Flooring Trade Name: Tigerwood
Botanical Name: Astronium, spp
Lumber Name: Goncalo Alves
Grows In: Brazil, Bolivia, Peru, Guatemala, Mexico

Tigerwood is a boldly striped species which has an orange/reddish brown background with wide dark brownish black striping, which we liken to the striping found in "vanilla fudge" ice cream.

Color Range:
Tigerwood, as the name suggests, is a species which exhibits a wide range of color/striping. The striping can vary from fine lines to bold "brush strokes". The background color can range from light tans to darker orange browns.
Color Change:
Tigerwood exhibits a large degree of color change with a pronounced darkening of the background under the stripes from an orangey tan to a deep reddish brown color, which then in turn makes the striping less contrasting and more subtle.
Hardness:
Tigerwood is 170% as hard as red oak (2160 on the Janka scale vs. 1260 for red oak).
Want to see more? Click the badge below to see an example of our Brazilian Koa flooring being used in a recent home installation in Blue Bell, PA!
Like what you see above? Click the button below to obtain more information about our prefinished, unfinished, and engineered formats