Sapele Hardwood Flooring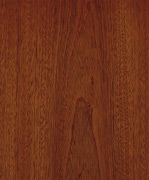 Sapele is a wood similar to Mahogany, with a reddish-brown color. Sapele's interlocked grain, which changes direction in unqiue patterns creates a distinctive look. Sapele is very popular as a decorative surface veneer for high-grade furniture such as book cases and cabinets, and of course as flooring. It's a fantastic alternative to genuine Mahogany.
Appearance
Sapele Heartwood has a medium to a dark reddish- or purplish-brown color range. Sapele Sapwood features whitish or pale yellow colors. Interlocked grain offers a narrow and uniform stripe pattern on quartered surfaces.
Engineered Sapele
1/2" Tongue and Groove Engineered Sapele