Brazilian Teak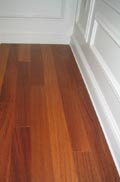 The species Brazilian Teak (Cumaru) is one our our top 3 product choices. Brazilian Teak, known for its exceptional hardness and durability, this exotic hardwood is a great choice in both residential and commercial installations. Typically users who prefer a more brown look to their floor over Brazilian Cherry go with our Brazilian Teak. We offer only one superior quality grade (clear grade), in both Prefinished and Unfinished formats and several sizes.
Brazilian Teak from South America varies from a medium tan brown to a dark reddish brown with some pieces displaying a black striping. Brazilian Teak "light" is actually a different species, Southern Chestnut. Brazilian Teak, unlike most exotics, undergoes very little color change due to sun light. It is one of the densest woods available at 280% as hard as domestic red oak.
Our mills in Brazil use Sustainable Forestry Practices, which includes environmental and socially responsible forestry practices. After 70 years in the lumber industry, we value the land and practice sustainable forestry. Sustainable forestry means that the amount removed will not exceed the amount that will grow back between harvests.
On the Janka Hardness scale, Brazilian Teak ranks 3540 vs. 1260 for Red Oak.
You can request a quote or obtain more
information on our prefinished and unfinished formats.