Stairs, treads, risers, and hand rails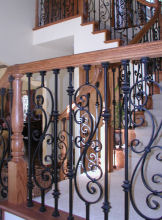 Stair Supplies manufactures wood stair parts and iron balusters with high quality stair manufacturing equipment. Our wooden stair parts are manufactured in our facility in northern Indiana from Red Oak, Brazilian Cherry, Maple, White Oak, Hickory and any other species commercially available. Stair supplies manufacturer's wrought iron balusters, often called iron handrails, overseas with strict quality standards and onsite quality inspections.
Our stair treads, handrail, balusters , newels and other banister components are manufactured from the highest quality materials available using state of the art woodworking machines. Stair supplies stair treads are superior to those available through most sources in quality, durability, color consistency, ease of installation. The handrail produced by stair supplies is guaranteed to fit the handrail fittings manufactured in our shop. Our unique process of using the same tooling to manufacture handrail and handrail fittings sets us apart in an industry that has accepted poorly fitting handrails. When a customer orders a wood handrail with iron balusters they will marry two elegant design elements. Our wrought iron balusters add a unique feel to a home and the wood handrail produces warmth and tradition.
Ordering stairs isn't always an easy process, but we can help guide you through it. Call us at 888-452-8622 or email info@brazilianhardwood.com