Brazilian Koa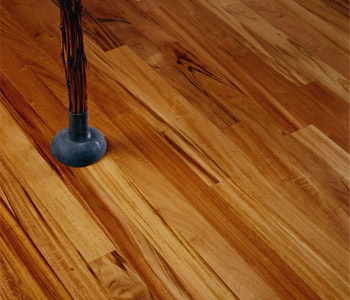 Available in prefinished and unfinished formats
Flooring Trade Name: Tigerwood
Botanical Name: Astronium, spp
Lumber Name: Goncalo Alves
Grows In: Brazil, Bolivia, Peru, Guatemala, Mexico

Tigerwood is a boldly striped species which has an orange/reddish brown background with wide dark brownish black striping, which we liken to the striping found in "vanilla fudge" ice cream.

Color Range:
Tigerwood, as the name suggests, is a species which exhibits a wide range of color/striping. The striping can vary from fine lines to bold "brush strokes". The background color can range from light tans to darker orange browns.
Color Change:
Tigerwood exhibits a large degree of color change with a pronounced darkening of the background under the stripes from an orangey tan to a deep reddish brown color, which then in turn makes the striping less contrasting and more subtle.


Hardness:
Tigerwood is 170% as hard as red oak (2160 on the Janka scale vs. 1260 for red oak).


Brazilian Koa (Tigerwood), Prefinished
¾ x 3 x RL 1 - 7ft
21 sq ft per box
View photos of tigerwood installations!